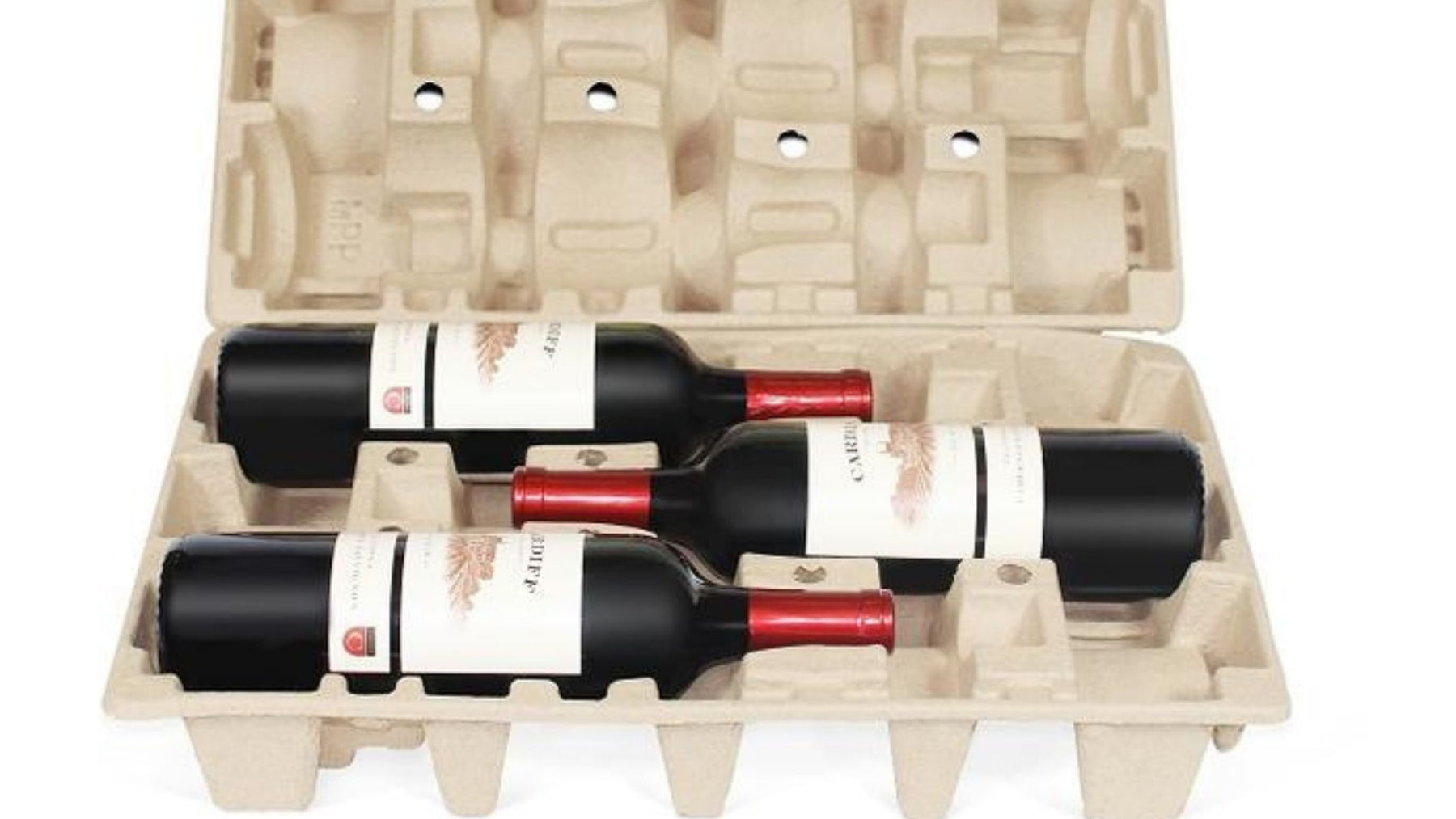 Pulp Wine Shipping Boxes: How Cost-Effective Are They?
A wine bottle shipping box is the perfect packaging for fulfilling a customer's order or sending a bottle of wine as a gift to a friend. Through this way, you can achieve the goal of shipping or receiving bottles in one piece. But it should be noted that the right bottle packaging must be designed well, be strong, and have the capability to protect the customer's experience and contents. 
To grow your business and take it to new heights, a highly protective wine bottle shipping box is the main step towards that goal. Customers would ultimately want to take the experience home when they visit your brewery or winery for tasting purposes. It's a challenge to protect purchased wine if the customer is flying or going out of town, and that is when the pulp wine shipping boxes come in handy.
A few cost-effective packaging solutions are mentioned below, which can be used for shipping the wine safely: 
Foam Chips or Shredded Paper
To reduce the risk of breakage during shipment, gift shreds or foam chips can add a safety cushion layer around the pulp wine shipping boxes.  Special packaging protocols are not needed, and these cushioning options are easy to use. Paper or foam are some other inexpensive alternatives that can be used for shipping wine bottles. 
Corrugated Dividers
The corrugated boxes are manufactured by elements called "brain," formed by cardboard, corrugated shape, and hidden by external and internal layers of recycled cellulose fibers. This composition gives this type of packaging lightness and, at the same time, a lot of resistance. Due to their characteristics mentioned above, corrugated cardboard packaging is widely used for the storage and, mainly, transportation of individual items or on a large scale, providing greater protection to its contents.
The chances of breakage are reduced, and the bottles don't bump against each other thanks to the interior lining as the corrugated dividers add a layer of protection. There is also an option of customization, and you can add your logo or information about the company or any other specific personalized message. This will give you an added benefit as customers can keep your company in mind while ordering more products in the future. 
Protective Foam with Cushion Wrapping
Protective foam cushion rolls are one of the best and cost-effective packaging materials when it comes to wrapping your finest vintages as it comes with an extra layer of protection for precious cargo. These are easy to bend or wrap. It comes in the form of a blanket as these polyethylene cushions are composed of millions of air cells. They won't scratch or damage the label of the wine bottles – thanks to their non-abrasive feature.
Air Packaging and Bubble Wrap
To ensure safe shipping of your wine bottles, a few bubble wraps or an inflatable air sac can be used for excellent buffering. The shipment cost also reduces while using this packaging as it's very lightweight, and you also have the luxury of choosing from a variety of bubble thicknesses as per your need. 
Wine shipping boxes are cost-effective
Cost-saving is one of the main critical factors for which a wine bottle shipping box is used during shipment. The market is very competitive as many cardboard manufacturers offer branded cardboards. It is also noteworthy that the profit margin can be maximized if you buy wine shipping boxes in bulk at reduced rates.
You can start saving your cost right from the beginning as recycled materials or byproducts are used for creating the pulp packaging. It is also noteworthy that since recycled materials are used, this is also eco-friendly. You can also reduce the cost of labor since no extra assembly is required because the packaging mold is designed according to the client's product. The molded fiber production has nothing to do with the gasoline industry, so the pulp packaging costs are cut even more. Lastly, you can also save more money because less space is required for storing or shipping due to the size and weight of the wine bottle shipping box.