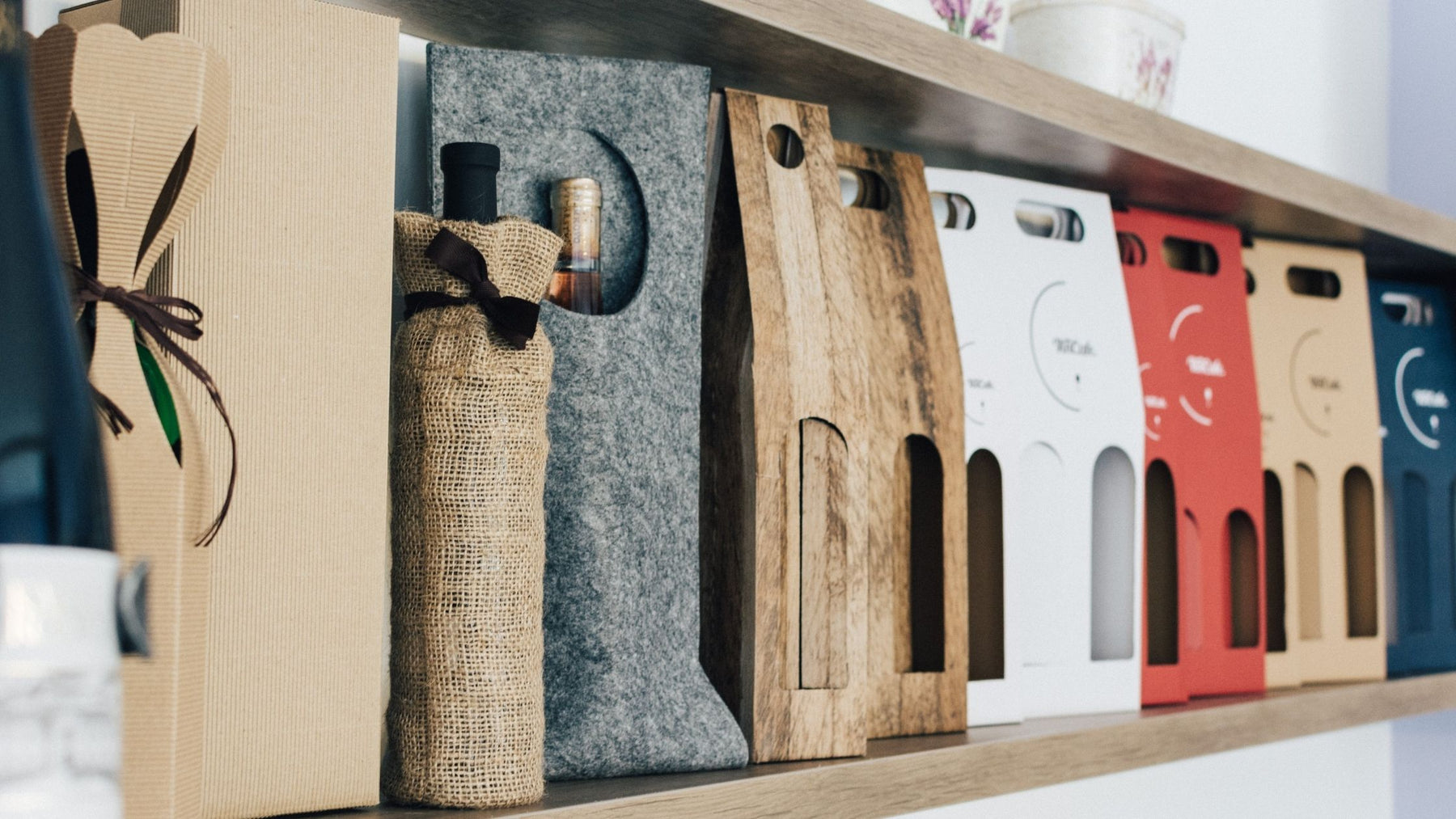 Cardboard Wine Carriers Perfect for Shipping, Moving, or Parties
At one point or another, you will find yourself transporting wine bottles to a friend's house, a meetup, or a work party using cardboard wine carriers. 
Our cardboard wine carriers are the most versatile! You can choose to give them to your friend as a gift, or even buy them because you have a boatload of bottles to ferry. At WineShippingBoxes, we know the pain when time stops, and you watch an expensive wine bottle smash to the ground. For this reason, we encourage you to try out our reinforced wine carrier box. Its build is reliable and is eco-friendly since it's made from 100% recyclable and reusable material. Putting it together is straightforward as it only needs you to join complementary cardboard sides together, and the most interesting thing is you need no adhesives or glue.
Cardboard Wine Carriers Box
Our cardboard wine carriers are not only perfect for holding your favorite brands but also come in handy when you make your own brews from scratch. We have assorted varieties that can hold two, three, or six wine bottles at a time and are worth every penny. Our wide range of wine box carriers will cater to all your needs and keep their end of the bargain when it comes to durability and quality. At Wine Shipping Boxes, we have all the answers to your needs.
While many companies don't take the time to evaluate the negative impact of broken wine bottles on their bottom line, the outcome is always devastating. It could mean damage to stored wine, losses, delays in delivery to customers or receiving shattered bottles, or increased shipping costs. But the most compelling effect is the pessimistic outlook a client has when they receive broken bottles or wait longer to receive their product. Companies don't give this much thought because this perspective is always brushed aside as "operating costs." We've seen this in action as well.
It shouldn't be the case. Our numbers show that our cardboard wine carriers reduce breakages by 95%. Our solutions are foolproof, and we encourage our clients to try out the vast array of the products we have.
Transporting Your Wine Bottle
The trunk is a no-go zone
Look at it this way; wine is like butter, which intensely hates high temperatures and needs to be cool at all times – between 55 to 65 degrees. In case you didn't know, your trunk, even on a chilly day, can hit higher than 100 degrees.
Stay out of the sun
Avoid sunlight at all costs, more so if you will be parking for a long time. Wine and sunlight don't blend well, and you should ideally look for a shade where the whole section of your car isn't directly under sunlight.
Get cozy inside
Just like you, it would be perfect to say; no wine bottle is an island. It means that when you will be out of the car for more extended periods, take it with you inside and let it sit where there is free-flowing air. You can put it in your hotel room or ask a friend to place it in their basement.
And if you are out of options, you should ask the winery to hold the bottle for you until the very last minute when you come to pick it; most of the time, they oblige. For your transport, only use your trusty companions, Wine Shipping Boxes, for the best results.
Avoid the upright stance
Don't let the cork dry because this increases the chance of wine oxidation. Keep your bottle upside down or on its side.
Add some no sweat ice packs
When push comes to shove, try out some nice chilled no sweat ice packs, which will preserve the quality of your wine for longer. Crushed ice melts; hence will damage the bottle labels. Because no sweat packs are always in demand, order yours early, and don't forget to use our top-tier 4-bottle wine carrier box if you're transporting a smaller order.
Use the recommended carrier box
You could do all these, but still, forget to safeguard your wine bottles during transportation. WineShippingBoxes supplies quality wine carrier boxes that come with molded foam inserts for two, four, or six wine bottles to keep your merchandise safe in transit.
Give your bottles a break
Fun fact: vibrations can alter the flavor of wine!
But this shouldn't startle you because you are confident that 'travel shock' or 'bottle shock' will work some magic in the long run. Just let your bottles heal in a dry place.
Use shipping services
You can skip the hassle altogether and receive your wine bottles in mint conditions if you rely on Wine Shipping Boxes to do the heavy lifting for you. Just make sure the person receiving the consignment is over 21 years. Remember that different states have laws regulating bulk wine transport, so be sure to be up to speed to avoid disappointment and the last-minute dash.
Keep in mind that the above points should be your mantra if daily temperatures hit more than 80 degrees. Here, we welcome you to try out our wine box carriers, which, apart from the wine industry, are pivotal in the food and medicine sector as well. Don't forget some no sweat ice.
What next when the heat turns up?
You might be eager to learn how to get your wine bottles to the part, right? And time after time, we have mentioned that soaring heat is detrimental to the package. So, what happens to the wine when the heat turns up?
As the temperatures hit 80 degrees and higher, the wine expands. While this might not irreversibly tarnish the flavor, it can find its way around the cork or break the seal, and the bottleneck may get sticky or stained. If this happens, wine gets oxidized.
A few minutes of sweltering heat isn't detrimental, but do this for long, and changes will never be reversed. After 18 hours, its color changes, sulfur dioxide levels fall, and the wine becomes dull. At 100 degrees, 6 hours is all it takes!