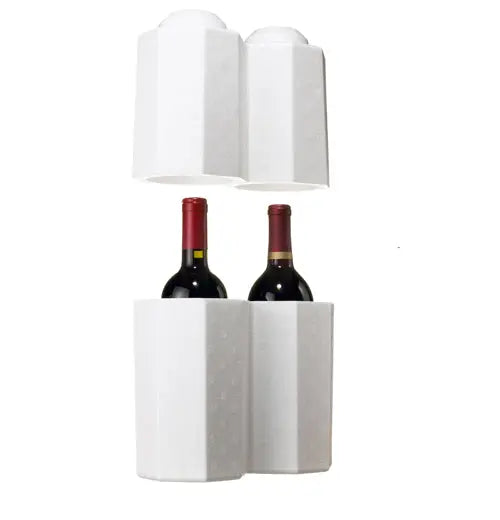 Two (2) Bottle Foam Shipper Kit - 2 foam shippers & 1 outer shipping box
If you're wondering how to ship a bottle of wine without running the risk of damaging those bottles in the process, you've come to the right place. With our corrugated 2-bottle wine shipping box, you can safely ship your wine across the country without any issue.
Corrugated cardboard is much more protective than regular cardboard. It consists of three different containerboard layers to ensure your wine bottles are given the protection they need. Not only that, but our 2-bottle wine shipping box is extremely friendly to the environment!
For those interested in lowering the cost to ship a bottle of wine in a safe and secure manner, our corrugated 2-bottle wine shipping box kit comes equipped with two inner corrugated boxes for each bottle and one outer corrugated box for shipping purposes.
You receive 2 stand up foam wine shippers and 1 shipping box per kit.
Available in increments of 2 kits (8 kit minimum).
Wine shipping boxes fit most 750ml bottles up to 3 7/8" wide and 14 1/4" tall. 96 units per pallet.
Box size is 10-3/8" x 5-3/8" x 16"